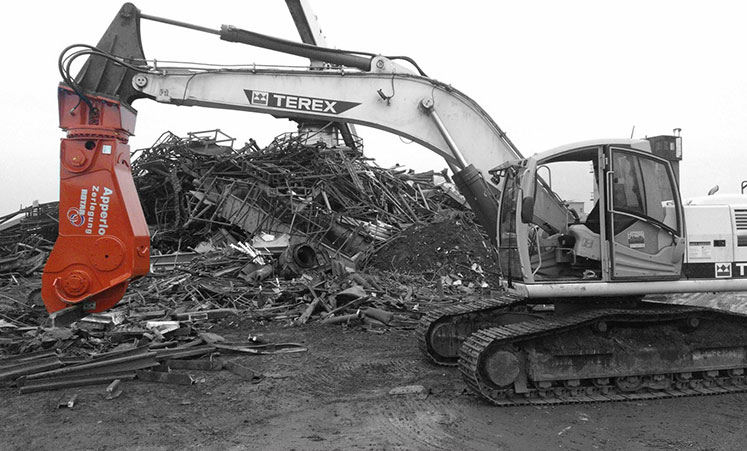 Rail cutter
RAIL CUTTER
Rotar Rail Cutter
The Rotar Rail Cutter equals enormous capacity. With its fast cycle times and incredible cutting power, the RRC will process tonnes of rail in the blink of an eye!

Upper head and slewing ring
The RRC Series is fitted with a strong rotating upper head and a heavy-duty, double-rowed slewing ring. The hydraulic motors generate a high torque, allowing the RRC Series to be moved in every possible position. The RRC is constructed from high-grade performance steel and wear-resistant materials. This includes an incredibly strong bottom and upper jaw with replaceable cutting knives and main axes with wide pivots as the basis.

Specially developed hydraulic cylinder
The hydraulic cylinder with a pressure relief valve, developed by Rotar, guarantees maximum cutting forces under controlled circumstances.

The double hose connection
The double hose connection on the swivel and large diameter of hoses, bores, and pipes creates optimum oil flow. This connection stops heat building up in the hydraulic system, reducing the RRC's fuel consumption.
お問い合わせ
Contact
ご相談・ご質問等ございましたら、
お気軽にお問い合わせください。

営業時間8:30~17:30
ご相談・お問い合わせ