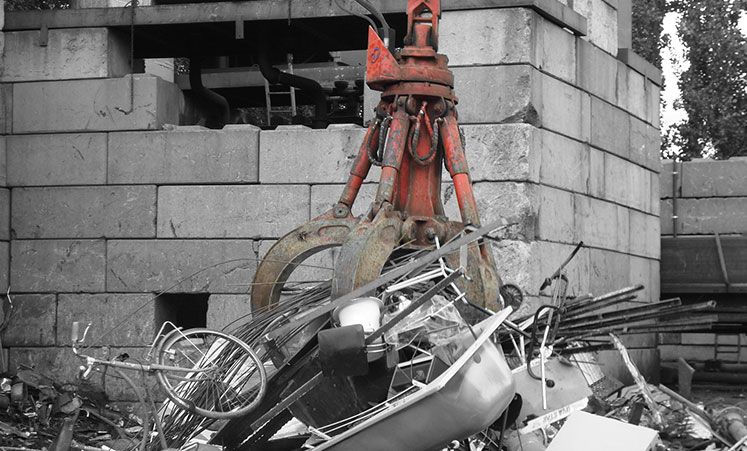 Peel grab
PEEL GRAB
Rotar Orange Peel Grab
Rapid cycle times combined with a large volume make the Rotar Orange Peel Grab the perfect attachment for transferring scrap. The RPG will move a mountain!

Upper head and slewing ring
The RPG Series is fitted with a strong rotating upper head and a heavy-duty slewing ring. The hydraulic motor in the upper head generates a high torque, allowing the RPG Series to be moved in every possible position.

Excellent protection
Orange peel grabs are subjected to heavy shock loads. The hydraulic cylinders of the RPG Series are fitted with end-cushioning. The end-cushioning can take heavy punches and protect the cylinders. Also, the RPG Series is fitted with a pressure relief valve that will protect the hydraulic system against peak pressures.
Wear-resistant shells The RPG Series' wear-resistant shell design guarantees optimal penetration. The shells are manufactured from HARDOX steel and fitted with Manganese steel tips. The shells are equipped with long bearing pivot points with wide bearing bushes and form an incredibly strong grab shell. The pivot points are sealed against grease and dust, allowing optimum lubrication.
お問い合わせ
Contact
ご相談・ご質問等ございましたら、
お気軽にお問い合わせください。

営業時間8:30~17:30
ご相談・お問い合わせ